If someone in your friend circle searching your profile on Facebook, how she/he find you? They know your name but it's very hard to find someone by typing name on Facebook. You can see thousands people in search results with same name.
So at this situation what will you do, so anyone can find your Facebook profile easily.
The answer is "Set a custom username for your Facebook profile"
After setup username your profile address look like this:-
facebook.com/username
You can share this unique address with your address and also you can link this address in your website and other social media platform.
Here i will tell you how to set custom username for Facebook profile.
Set Username For Facebook Profile
First of all, if your mobile number is not registered with your Facebook account then you must add your mobile number.
After registering Mobile Number, your Facebook account gets verified and after this you can set the username for your profile and pages too.
If your mobile number is registered then you can leave this step.
1. Add Mobile Number & Verify Account
To add Mobile Number, go to Settings. (Direct link)
In Settings, you have to click on Mobile tab.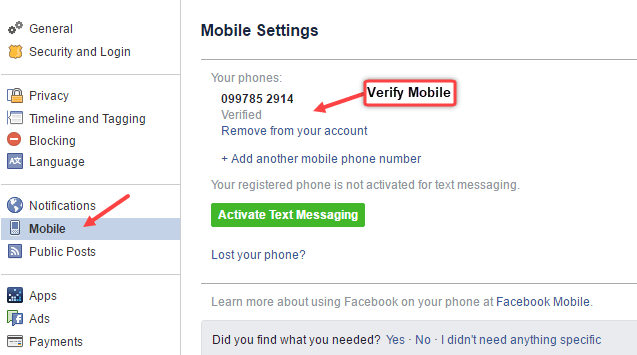 Now type your mobile number and submit, you will get the confirmation code on the mobile number which you have to enter. After entering, your mobile number will be successfully added and your account now verified.
Now you can set your Username.
2. Set Username for Facebook Profile
To set Username, go to Settings. (Direct Link)
Click and open General tab in Settings.

In General setting, you can see the option of the username, click on Edit
Now type your desired username, if it is showing "username is available" then click on save.
Done! You have successfully set your custom username and your profile address now look like this: "facebook.com/yourusername"
Now nobody will have trouble finding you on Facebook. You can share this link and people can easily find you.
Not only this, if you have a Facebook page, you can set Username for that.
So in this way you can set a custom username for your Facebook profile. You can also change this username, but do not repeat this again n again.