After activating PNB net banking, you need to set limits first for adding the beneficiary, IMPS, NEFT, RTGS, and UPI transfer per day. After setting up limits, you can add the beneficiary and transfer money through net banking.
For security reasons, it is mandatory in PNB net banking to set limits for transactions and beneficiary registration.
In PNB Net Banking limits, you need to set the following limits:
Overall limits for all transactions per day
Maximum permissible transaction per day
No. of beneficiaries per day (add)
UPI, IMPS, NEFT, RTGS per day transactions limit
e-commerce online transactions limit
So here is how you can set limits in PNB Net Banking:
PNB Net Banking – How To Set User Limits
(1) Login to PNB Net Banking: https://netbanking.netpnb.com
(2) Now click on Personal Settings – Set Limits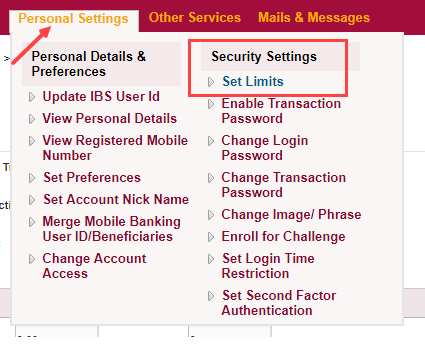 (3) And now set limits for different transactions and beneficiary.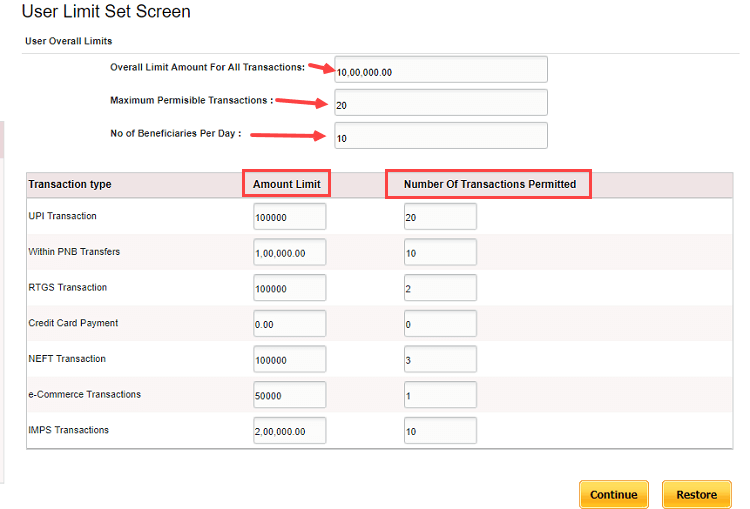 Overall limit Amount for all transactions: Here you can set the total amount limit for all transactions per day.
Maximum permissible transactions: Set total permissible txn per day.
No. of beneficiary per day: Set how many beneficiaries you can add per day.
UPI transaction: Set UPI amount limit and transaction limit per day.
Within PNB transfer: Set limit for PNB to PNB transfer.
RTGS transaction: In RTGS you can send up to 10 lac, set amount limit and txn limit
NEFT transactions: NEFT also allows you to transfer up to 10 lac. Set limit for NEFT and number of txn per day.
e-commerce: For online payment, you can set the amount limits and number of txn limit.
IMPS: In IMPS, you can send up to 2 lac per day, set your amount limit and transactions per day limit.
After setting up limits, click on continue.
Now you will receive OTP on your registered mobile number, enter OTP and confirm your request.
Done! you have successfully set limits for PNB net banking. Now you can transfer money and add beneficiary within your limits.