Do away with the boring old 'Tring Tring' and greet your callers with your favorite tunes. With Airtel hello tunes you can set popular tunes as your hello tunes and make your callers groove to your favorite tune.
Airtel users can also set their names as hello tunes. You can set your name hello tunes for selected Phone caller or for all callers.
What is Name Tune in Airtel?
Airtel has introduced  Name Tunes, personalized Hello Tune service that enables Airtel customers to personalize caller tune with his/her own name. Airtel mobile customers can set their caller tune with their own name by following a simple process that allows them to search and set their name as their Hello Tune.
Set your Name Hello Tune in Airtel
Download and install Airtel Hello tunes mobile application on your phone. Open the application and Register using Airtel mobile number.
Tap on Name Tunes and enter your name to search.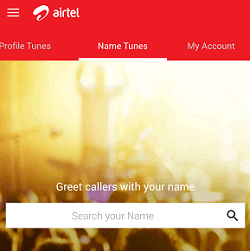 You can see available hello tunes for your name. Tap on the (+) icon and select this tune.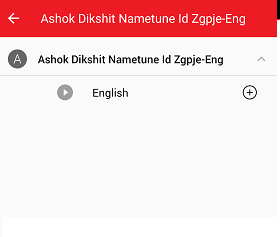 And now set for All callers or special callers.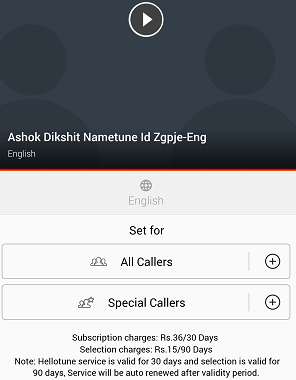 And finally, Tap on Subscribe.
Set Name Hellotunes from the website
Airtel users can also visit: https://www.airtelhellotunes.in/
Search name tunes and set as hello tunes.
Name not Available?
If your name is not available in this list then not to worry. You can send an SMS from your Airtel number to get your name tune.
Type "NT<space>Your name" and send to 54321 (toll-free SMS)
Airtel Hello Tunes charges
Subscription charge: Rs.36 for 30 days
Selection charges: Rs.15 for 80 Days
Hellotune service is valid for 30 days and selection valid for 90 days. Service will be renewed after the validity period.
So this is how Airtel users can now set their name hello tunes and do away with the boring old 'Tring Tring' and greet your callers with your favorite tunes.