Syndicate Bank customers can now register online for email statement facility and receive account statement on email ID monthly, quarterly, or yearly (As you selected). Syndicate Bank email account statement registration facility now available through Official mobile banking application, you can register for this facility now.
When you register for the Syndicate Email statement facility you will be able to receive your account statement on your registered email ID. The account statement sent to your mail address in PDF format which you can open on your mobile using any PDF reader application.
So here we will tell you step by step – how to register online for Syndicate Bank email statement facility.
Register Online for Syndicate Email Statement
First of all, you need to register your email ID with your Bank account. You need to visit Bank for this or you have already registered your email ID then you can register for an email statement online. See how:
Open Syndicate Mobile Banking application and tap on the Services tab.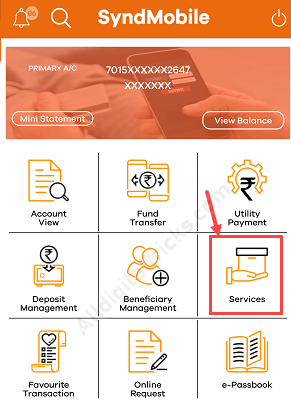 In Services, tap and open the Email Statement (register/De-register) option as you can see below screenshot.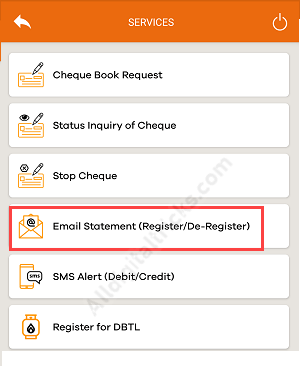 Now select your account number and select frequency for email statement like monthly, quarterly, yearly or half-yearly. For instance, if you select a monthly option then you will receive the account statement on your email ID every month. Tap on the register button and confirm your request.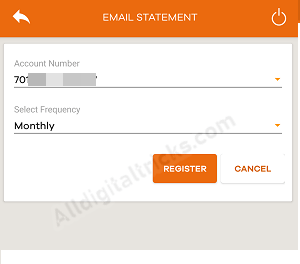 Done! you have successfully registered for email statement facility. Now you will receive the account statement in PDF format on the selected frequency.
FAQ
Q.1: How To receive my syndicate account statement on my email ID?
Ans: Just register your email ID with Bank and enroll online for the email statement facility as mentioned above.
Q.2: How to open the Syndicate Bank email statement, what id password?
Ans: You will receive a password-protected email satetement. You can see password information in the mail description.
Q.3: I want to receive my Syndicate Bank account monthly statement on my email ID, how?
Ans: Just follow the above steps and register your account for syndicate email statement facility.