Canara Bank customers can now temporary Block/Unblock Canara ATM Debit Card online and enhance the security of their ATM card.
What is temporary Block/Unblock?
For security reasons, you can temporarily block your Canara ATM card and whenever you need to use your card (online/offline), you can again unblock your card.
Instead of blocking your card permanent, you can use this temporary card block/unblock feature. For your ATM card security, you can follow this feature.
If you think you know where your card is and know that it hasn't been lost or compromised, you can place a temporary block on your ATM card through Canara Internet Banking.
Temporary Block/Unblock Canara Bank ATM/Debit Card
Please note, when you temporary block your card then you can not withdraw money from ATM machine and can not use your card online. To use your card again you need to unblock your card first.
See how you can switch ON/OFF Canara Bank ATM card.
1) Login to Canara Net Banking: https://netbanking.canarabank.in/
2) After login, click on Cards option. Now click on Temporary Block/Un-Block option.
Now select Action type: Block Temporarily, select your card and submit your request.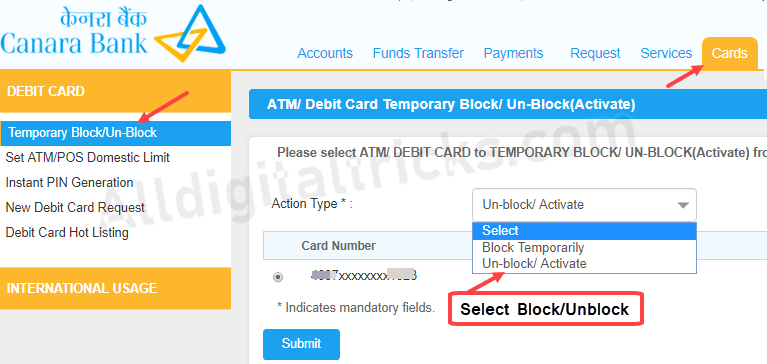 Next screen confirm your request.

After verifying your request with OTP, your ATM card will be switched off and you can not perform any transaction.
To switch ON your ATM card again, select Cards – Temporary Block/Unblock.
Select Unblock-Activate option. After unblocking your card, you can use our card again.
So this is how Canara Bank customers can temporarily Block/Unblock ATM Debit card online. ATM card On/off facility really very helpful to secure your card when you are not using it.