Do you want to know the status of your newly applied Canara Bank ATM/Debit Card? If yes, then you can check your Debit card application status online and know the current status of your debit card.
You can request a new Canara Bank ATM card online through net banking without visiting your branch. If you have applied for a debit card recently then follow the below process to check your delivery status online.
Track Canara Bank Debit Card Status Online
You can track your Debit Card application online and check its delivery status and when it will be despatched to your address.
(1) First you need to login to your Canara net banking account. Open Canara net banking login page (https://online.canarabank.in) and sign in to your account using your login credentials.
After login, click and open the "Cards" section. Here you need to click on the "New Debit Card Request and Tracking" option. Next, select the "Click here to track your new debit card" option as you can see in the below screenshot.

(2) Next screen debit card tracking page will be open. You need to type your account number/Inward number and click on submit. Next screen you can see your new debit card application status and know when it will be despatched. If your debit card has already been sent to your address then you can see the courier and tracking number.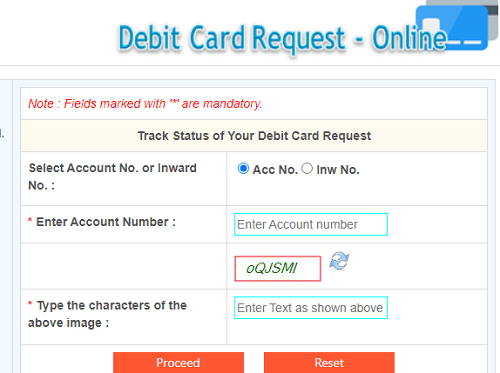 Normally your new Canara ATM/Debit card gets delivered within 10 working days. You can follow the above online method to track your card status.