Phonepe is a popular wallet and UPI payment application. You can use this application for Bank to Bank money transfer, Bill payments, recharges, Bookings, online payment and more.
Here we will tell you how to transfer PhonePe wallet money to your Bank account. PhonePe wallet facility allows you to add money to wallet using Debit card/credit card or direct through Bank account using UPI. You can use this wallet amount for bill payment, recharges, bookings and online payments.
For some reasons, if you want to send your Phonepe wallet amount to your Bank account then it is easy, you just need to swipe down and you are done.
See how to transfer Phonepe wallet amount to Bank account.
Transfer PhonePe Wallet Money to Bank Account
Step 1: First login to the Phonepe account and tap on Wallet Topup.
Step 2: Now select Withdrawal option and tap on LINK BANK ACCOUNT. Please note, make sure your Bank registered mobile number inserted in your phone. To add your Bank account it is necessary. The application first verify your mobile number and show you linked Bank account with your number.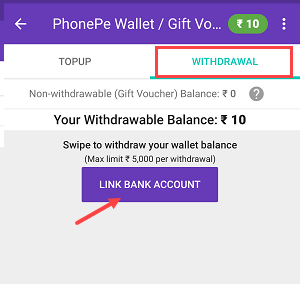 Step 3: To link your Bank account, tap and select your Bank. Now application verify your mobile number and link your Bank account with phonepe.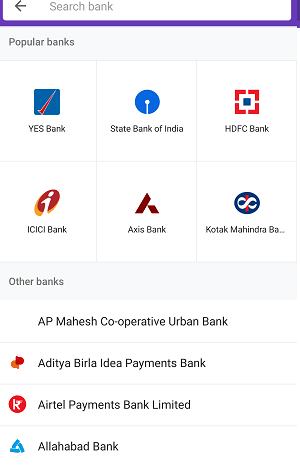 It will ask you to set UPI PIN, but you don't need to set UPI PIN for money transfer to Bank so leave it and back to Withdrawal option.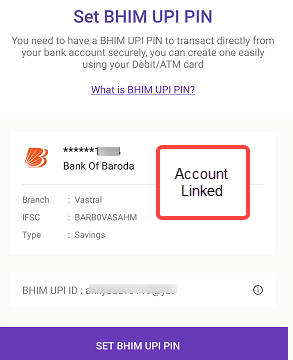 Step 4: After adding Bank account, now you can see your linked account. To transfer money to Bank account, just Swipe down your wallet icon to Bank account icon. After swiping down wallet icon to Bank icon, the amount will be transferred to your Bank Account.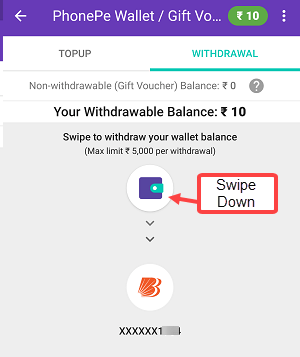 You can see success transaction screen.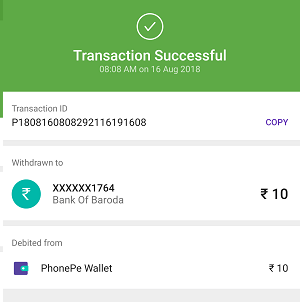 Please note, you can only transfer Rs.5000 in a single transaction. So if the amount is higher, then follow the same process and swipe down again to transfer another Rs.5000. Follow the same till the wallet amount transferred to Bank.
Cashback and offers amount are non-withdrawable so you can't transfer it to your Bank account.
So this is how to transfer money Phonepe wallet to the bank account. In just one swipe you can send money to linked Bank account.