UCO Bank offers an online green pin generation facility through mobile banking/net banking so you can now create your green pin or ATM PIN online by login to mobile banking and net banking.
UCO Bank green PIN means your ATM PIN. When you generate your ATM PIN, it is called green pin generation so don't confuse yourself.
Just follow the below steps and generate your UCO Bank account green PIN online.
UCO Bank Green PIN Generation Online
(1) Open and login to your UCO mobile banking application and open the "Manage Cards" section. Here you can manage your debit card functions.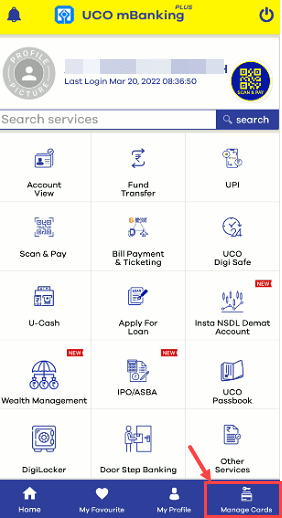 (2) In the manage cards, you need to select the "Green Pin Generation" option to create your green pin online.
(3) Next screen select your account number and tap on the proceed button. You will see your debit card number, tap on the "Generate Green PIN"
(4) Type your 16-digits Debit Card number and expiry date (month and year) and set your green pin and submit.
(5) Now enter the One-time password (OTP) received on your UCO account registered mobile number and enter 4 digits TPIN to complete the process.
You are done! you have successfully created your green PIN for the UCO debit card and now you can use your green PIN (Also known as ATM PIN) at any ATM machine to withdraw funds.
You can also login to your UCO net banking account to generate a green pin online. So this way you don't need to visit the branch or ATM machine to get your debit card green PIN ( ATM PIN), just login to mobile banking or net banking and generate green pin online.