UCO Mobile banking registration: If you are UCO  Bank saving account holder and want to activate/register for UCO Bank mobile banking then here is step by step process to enable mobile banking on your phone.
UCO Bank, formerly United Commercial Bank, established in 1943 in Kolkata, is a major government-owned commercial bank of India. The Bank's Regional presence includes 3,078 branches and 2564 ATMs.
You can open saving account in UCO Bank with Rs.1000 initial deposit. You will get all banking facility like passbook, Cheque book, ATM Debit card, net banking & mobile banking.
You can manage your bank account online through mobile banking or net banking.
Here is quick guide how to activate UCO mobile banking on your phone.
Activate UCO Bank Mobile Banking
With UCO Bank mobile banking you can check account balance & statement, transfer money to any bank account, open fixed deposit, block debit card, cheque related operations, pay bills & recharges and more.
Now see registration process:-
Before you start make sure your Debit card is active and have PIN number. Also keep your registered mobile number to receive One Time Password.
Step 1: Download and install UCO Mobile Banking application on your smartphone. It is available on Android and iOS.
Step 2: After installation, open application and tap on New Registration.
Step 3: On next screen, enter your 10-digit mobile number which registered with your saving account and proceed. Next screen you will prompt "mobile number is not registered. Would you lie to register user" tap on Yes.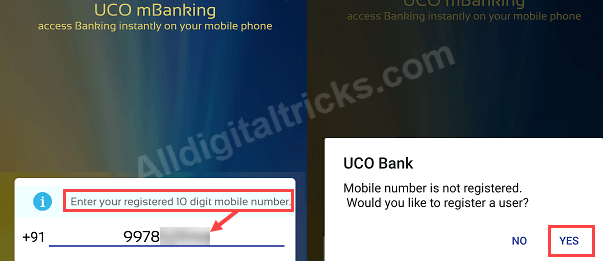 Step 4: Next screen enter your account number and enter last transaction detail (credit or debit). Select credit/debit and enter last transaction amount and proceed.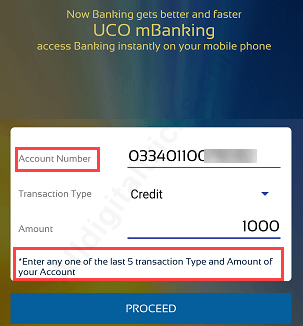 Step 5: You will receive One Time Password (OTP) on your registered mobile number, enter OTP and submit.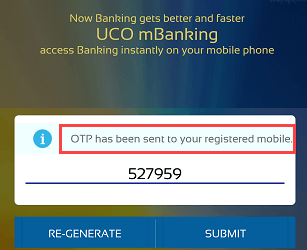 Step 6: Now enter your ATM Debit card number, expiry date and PIN number & proceed.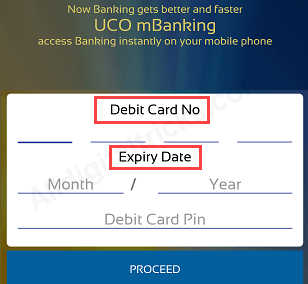 Step 7: And in last step set your 4-digits login PIN and transaction PIN. Both PIN should be different.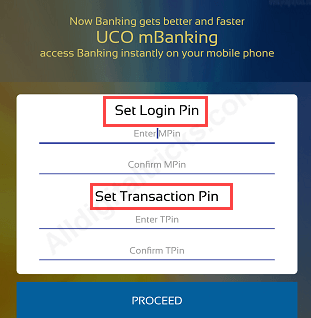 Done! you are successfully registered for UCO Bank mobile banking. Now open application again and tap on continue then login using login PIN.
SO this is how UCO Bank customers can activate/register for UCO mobile banking. You can manage your bank account on phone without visiting branch.