UCO Bank customers can now apply for a new ATM/Debit card online through UCO Mobile Banking plus application. Yes, now you can apply for a new UCO Debit card online without visiting branch or filling form.
If your ATM-Debit card has been lost or you want to apply for a new Debit card then you don't need to visit Bank for this, you just need to login UCO mobile banking app and request for new ATM card online in just a few seconds.
Here we will explain step by step process on – how to request for a new Debit card in UCO Bank online
UCO bank New Debit card Apply online
First, you need to install and activate the latest UCO Mobile banking application on your phone. This application is available on the play store and iOs store. Just install this official application and activate it.
1# login to UCO Mobile Banking plus application and tap on Other Services option as you can see below screenshot.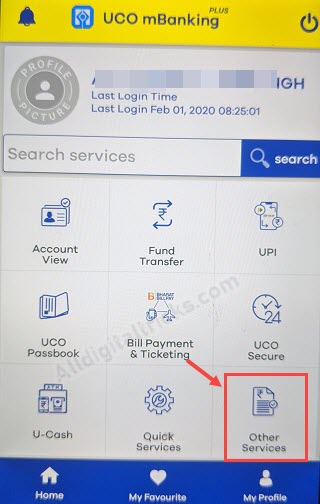 2# Next screen tap on the Debit Card Request option.
3# Now select your Account number, select card type (Rupay or VISA EMV), confirm your name on card, address.
If you have already an active Debit card then it will be automatically blocked after requesting a new Debit card. Now proceed with your request.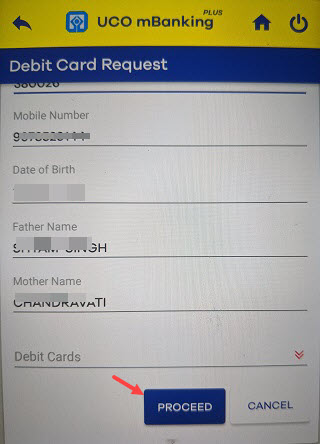 Ok done, you have successfully applied for a new Debit card. You will receive your new ATM/Debit card at your registered address within 15 days depending on your location or you can collect at the branch.
FAQ
Q.1: I lost my UCO Debit Card, how to get a new one?
Ans: Just block your current Debit card and request a new card by following the above guide.
Q.2: My UCO Debit card is too old, how to renew it and get a fresh new card?
Ans: Just apply for new Debit card online through mobile banking. Please note, your current Debit card will be blocked after requesting a new card.
Q.3: When I will get my new UCO Debit card after applying online?
Ans: It depends on your location. You will receive your new Debit card within 15 days. You can also collect it from the branch.