Union Bank of India is one of the largest public sector Bank in the country with 6,909+ ATMs and 4214+ branches. You can open a regular saving account with just Rs.1000 initial deposit with all banking products like Passbook, ATM card, Cheque Book.
Union Bank of India also provides free net banking and mobile banking facility to access banking services online. Now you don't need to visit Bank for chequebook request, check account balance and statement, passbook print, money transfer and more.
Now you don't need to visit Bank for passbook printing, just install Union Bank digital mPassbook application on your phone and access your passbook online.
Union Bank of India mPassbook Facility
Union Bank of India mPassbook facility lets you check your account activity on your phone without printing physical passbook. The application very helpful for those who visit Bank every month to check account activity.
See how to access UBI mPassbook facility on your phone.
Before you install the application, make sure your Bank registered mobile number inserted on your phone.
1# Install Union Bank mPassbook application on your phone. Android and iOS
2# Open the application and select your language. It is available in Hindi, English, Gujarati, Marathi etc.
3# Now enter your registered mobile number. You will receive One Time Password, enter this OTP on next screen.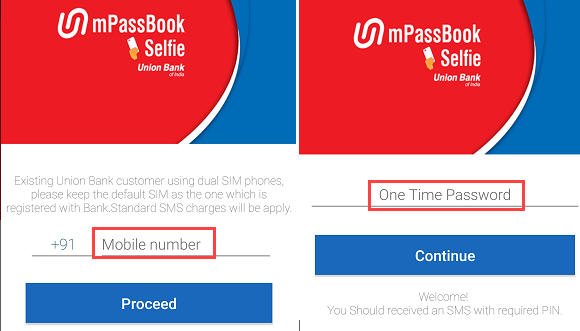 4# Now set 4-digit login Pin and tap on start using Passbook.
You are ready to use your digital mPassbook application. Just log in to the application by entering your 4-digit Pin.
To view your passbook, just tap on Passbook option. You can see all Bank accounts activity here including FD accounts.
You can view your latest transactions activity without an Internet connection after synchronize online. You can also tap on the download icon to download your transactions activity in pdf format on your phone.
So now forgot physical passbook, install Union Bank mPassbook a digital passbook on your phone and keep your eyes on your account transactions activity.