SBI Buddy – is State Bank Of India's Wallet Application that you can use for many things like Money transfer, recharges, Booking, bill payment, online payment.
You can also add money from your SBI Account or any other bank account in your SBI Buddy wallet and use it for different places.
Currently almost 15 millions SBI buddy users registered.
Buddy wallet is for everyone and not necessary that you hold SBI account. It require only your Mobile number for sign-up and you are ready to use.
Yes, if you are a SBI customer then you can upgrade your buddy and enhance the transaction limits.
Read also: How to Generate Buddy Debit Card?
SBI Buddy Upgrade / KYC Benefits
By upgrading SBI Buddy wallet, you can eliminate the wallet limit.
Your Wallet limit will increase from 20,000 to 50,000.
You can transfer someone up to Rs.50,000.
You can load up to Rs.50,000 in your wallet.
So let's upgrade your SBI Buddy Wallet (Full KYC).
Upgrade (Full KYC) SBI Buddy Wallet
Only SBI Customers can upgrade the Buddy wallet; Yes, if you are a customer of another bank, then this facility is not available to you right now.
SBI Customers can upgrade their Buddy wallet in 2 ways.
Note: Take care of one thing that your Buddy Wallet will be upgraded only if you have signed up with Buddy wallet from your bank registered mobile number.
So let's know about 2 methods so you can upgrade your Buddy Wallet.
1: Upgrade from Buddy Wallet
When you open SBI Buddy Application, you will see the option of wallet upgrade there.
1 Open the Buddy wallet and tap on "Enhance Transaction Limits" on the home screen.
2 Now in the next screen you have to click on Get Started.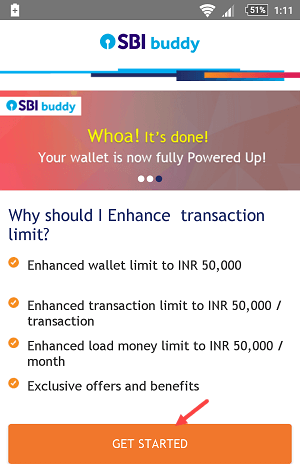 3 Now you will get 2 options here.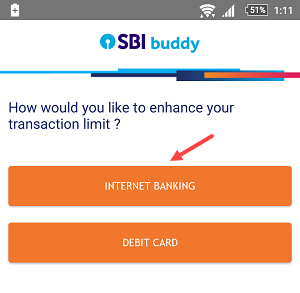 You can select net banking option if you have it. Select Net banking and Just login to your Internet Banking and you are done.
If you haven't Debit card then you can choose Debit card option. Select Debit card and enter your card details.
4 You can see Successful's message on-screen.
Soon, you will get an alert via SMS that your Wallet has been upgraded.
2: Upgrade Through Net Banking
You can also login to SBI Internet Banking and do your SBI Buddy Full KYC.
1: Login to Net Banking first.
2: After logging in, you have to click on e-Services.
In e-Services you have to click Update Buddy wallet KYC.
3: Now you have to type your SBI Buddy wallet ID i.e. your mobile number.

4: On the next screen you have to click on confirm.
That's it your buddy wallet has been upgraded.
So in this way you can increase the limit of SBI buddy wallet. Currently this facility is available only for SBI customers, other bank users can use wallet with limits.