As you know, JIO 4G SIM works only in 4G smartphones, if you insert a JIO SIM card in 3G / 2G, then that will not work.
Now those who have 4G smartphones are happy, but those who have 3G phones are unhappy.
But there is also a solution for it, those ho have 3G android smartphones can also enjoy 4G internet speed of JIO, as well as voice call & SMS in their 3G phone.
how? – Here is JioFi Portable Wi-Fi hotspot Device
Reliance JIO has also launched the JioFi wifi device, using this you can avail all the services of JIO in non-4G smartphone.
Today I'm going to tell you how to take advantage of Jio 4G Internet, Voice Call & SMS via JioFi Device in your 3G Android phone.
How to Enjoy Jio 4G in Your 3G Android Phone
First, you have to buy – Jiofi device which you can buy at any reliance digital store / mini store at Rs.1999. You can also order at your home if  available in your city, check here
With Jiofi you will get JIO SIM CARD free.
You have to take your Aadhar card together so that your SIM card will be activated immediately through e-KYC.
So you have purchased Jiofi wifi portable wireless hotspot. Now Insert the SIM card which is given to you in the device, within a few minutes your SIM will be activated.
2: Now you have to connect Jiofi wifi hotspot to your 3G phone.
Turn on the Jiofi device to connect, Press power button and hold it for 3-seconds, you can turn ON / OFF Device from this Power button.
Now turn on wifi in your phone, as soon as you ON, your phone will detect nearby Wifi hotspot, you can also see JioFi in available wifi hotspot. What is the name of your device? You can see on package box or open JioFi's cover and see it under its battery.
You have to select Jiofi and connect it by entering its wifi password. Jiofi's password can be seen on the package Box or under Battery. Just enter that password and connect it.
you are done! Now you can enjoy Jio's 4G interent speed in your 3G phone too.
How to enable Jio Voice Call & SMS from JioFi
To enable Voice call & SMS service on your 3G phone via JioFi, first you have to connect Jiofi with your phone.
To connect Jiofi on the connect, Press Power button for 3 seconds.
After Jiofi On, turn on Wifi in your phone, now select the Jiofi hotspot and enter its password to connect. Password You can see in jiofi's package box.
After connecting both, now you have to install the jio 4gVoice application.
After installing the application, open it. As soon as you open, Jio4g voice will detect your Jiofi device, you just have to tap on configure.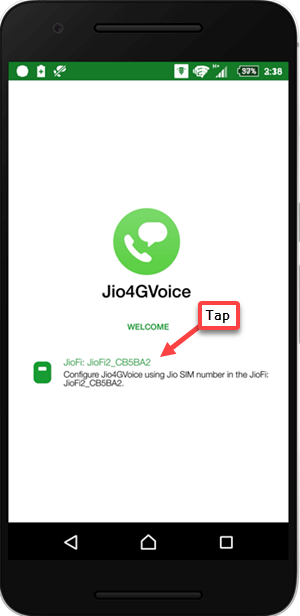 After configure, you can now use Voice Calls and SMS from your 3G Phone using jiofi.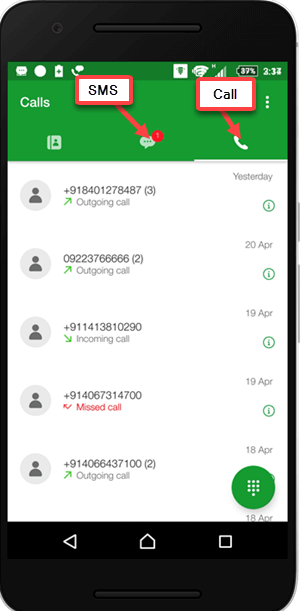 Whenever you need to call OR SMS, connect your phone to Jiofi, open Jio4g Voice Application and tap on the call or SMS icon. You can also set Jio4g Voice application as a default Call and SMS for your phone.
Register your SIM on MyJio
By registering your SIM card on MYjio application, you can check the full details of your account. You can also see information about Balance, Data balance, Plans details, Recharges, Offers, as well.
First You have to install Myjio application in your phone.
After installing Myjio application, you have to register your number.
Open MyJio Application, tap on Signup here.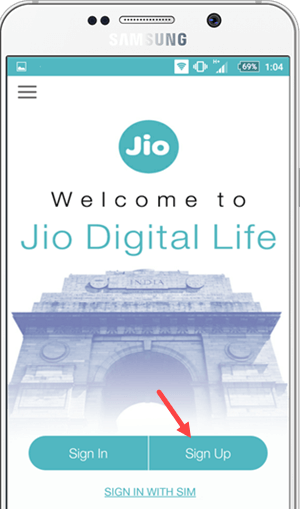 Next screen, enter you JIO number and tap on Generate OTP button.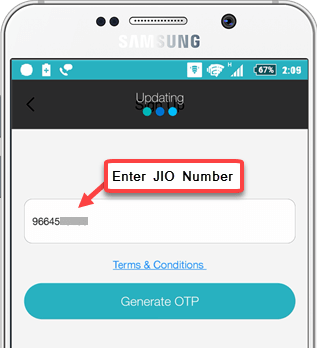 To receive OTP you must install Jio4G voice Application, as i mentioned above. Open Jio4g Voice Application you can see OTP message there.
Next screen, now enter OTP, email address and set your password.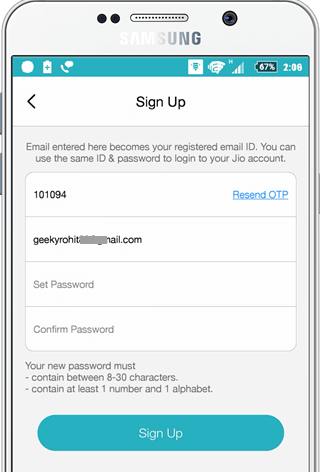 Now you will receive verification email to verify your identity, open your mail box and click on verify link.
Now you can login to your MyJio Application.
Open MyJio and tap on open.
You can see now your available balance, check data data balance, offers, your  plans and much more.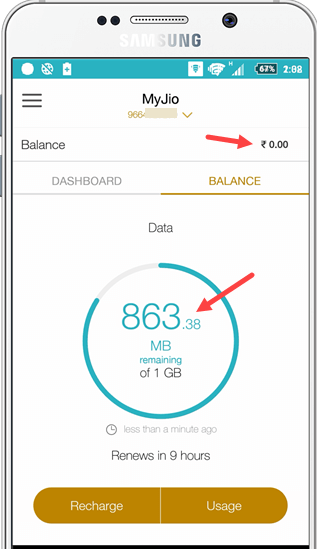 So friends this is how you can take advantage of all the services of JIO in your Android 3G phone including 4G Internet, Voice calling & SMS service.
By the way, now 4G VolTe smartphone is available in very low price onlyat 5000, so you can buy it too. Yes you can use JioFi as Wifi Hotspot.