Vodafone customers can share talk time with their friends and relatives and also get talk time from another Vodafone user. Vodafone to Vodafone Balance transfer facility now enables you to share balance amount with other same network users.
You can use Vodafone Balance transfer facility when you need to call someone in urgent and you don't have balance. Just request balance from another Vodafone user. He will transfer RS.5,10,20 or 35 balance to your Vodafone number.
The same way, you can also send Talk time balance from your Vodafone number to another Vodafone user.
Vodafone Balance Transfer Through USSD
Just Dial below USSD code from your number to transfer balance.
Now select Balance Transfer option.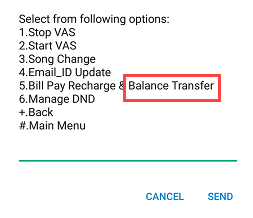 Next, enter the amount between Rs.5 to 35 and then enter reeciver Vodafone mobile number.

The amount will be credited to reeciver mobile number instantly.
Send Vodafone Balance Through Application
You can also install Vodafone official mobile application and register your mobile number. The application enables you to share or request talk time easily.
Download and Install My Vodafone Mobile Application on your Phone and registered your number.
Now open the application and open menu options. Now tap on Balance Transfer option.
Next screen, tap on Send Balance option.
And now enter receiver mobile number and select the amount between Rs.5 to 35 and tap on transfer now.
Done! your shared balance will be transferred to received mobile number instantly.
Please note, for Balance transfer you will be charged some amount. This facility is not free. You can only send the balance to other Vodafone user, not other network users.
You can also request talk time from someone when you need it urgent using this application. Just select the Request Balance option and enter Vodafone user mobile number.
So this is how Vodafone users can share Talk time (balance) with another mobile number through the Balance Transfer facility.