If you have SBI Mod (Multiple options deposit) account then let me tell you now you can withdraw SBI MOD balance. Yes, you can break SBI MOD partially and transfer MOD money to your saving/current account.
SBI customers can open MOD saving scheme online through net banking and mobile banking. Unlike normal fixed deposit, SBI MOD is fully liquidated and you can withdraw money anytime from ATM or Online. The balance amount in your MODS account will continue to earn the term or fixed deposit interest rates applicable at the time of initial deposit.
If you are SBI customer and have a MOD account then see how you can break MOD account and withdraw money.
How To partially Break SBI MOD and Withdraw Money
Step 1: Login to SBI Net Banking first: https://retail.onlinesbi.com/
After login, click on Fixed Deposit and then click on Partial Closure of MOD Accounts.
Step 2: And next screen, select your MOD account, enter the amount which you want to break (withdraw), select your Bank account number and submit.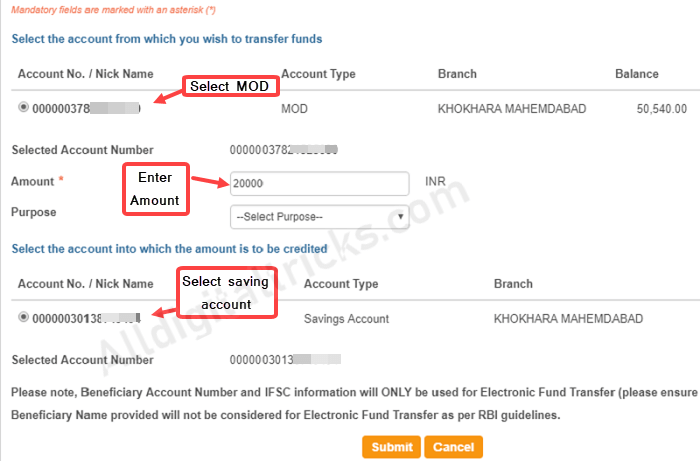 Next screen confirm your request.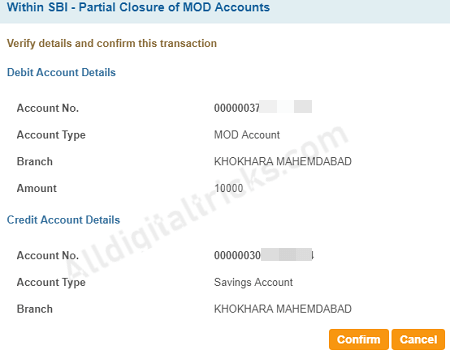 Done! the amount will be credited to your saving account. Please note remaining MOD account balance will continue to earn applicable interest.
NOTE:
Through this facility, you can partially close/break your MOD accounts.
You can only partially break/close your MOD account, however for full closure please use the following option: Fixed Deposit → e-TDR/e-STDR (MOD) Multi Option Deposit → Close A/c Prematurely.
You can credit the partial closure mod balance into your Savings or Current accounts.
The amount left in the MOD account after partial closure will be continued with the existing Interest Rate and Tenure.
To perform partial MOD break up you should have minimum balance of Rs.1000 in your MOD Account.
So this is how SBI customers can break MOD account and transfer MOD balance to the saving/current account.