Are you Yes Bank customer and forgot your Yes Bank Customer ID? Here we will tell you 5 ways to check your Customer ID online.
Yes Bank is well-known private sector Bank in the country. You can open a regular saving account in this Bank with 10000 initial deposit.
Yes Bank provides a unique Customer identification number to all account holders. You need to enter this customer ID as a username when you log in to net banking account.
If you are existing Yes Bank customer and want to know your Yes Bank customer ID then follow these 5 methods.
1# Check Yes Bank customer ID Online
If you are already registered for Yes Bank mobile banking then you can find your customer number by login to Mobile banking application.
Login to Yes Mobile Banking and tap on My Info option. Here you can see your customer ID.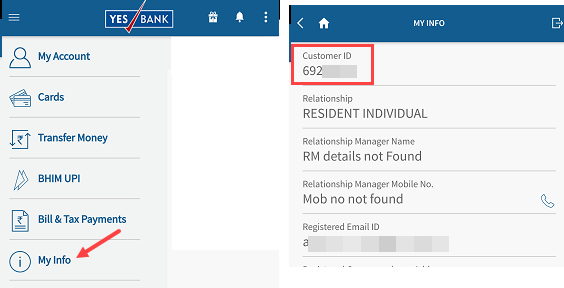 2# Find on your e-statement or Physical Statement
If your email address is registered with your Yes Bank account then you will receive monthly e-statement on your email address. Just open e-statement PDF file where you can see your customer identification number. If you are receiving physical statement then you can also check your physical statement.
3# Find in Your ChequeBook
Check your Yes Bank Cheque Book middle page where you can see your Account number as well as your Customer ID.
4# Check on Welcome Letter
When you open your new account in Yes Bank, you will receive a welcome letter. In this letter, you can check your customer ID.
5# Call The customer care
And the last option is, call to the Yes Bank customer care number to know your customer ID number.
If you have Yes Bank physical Passbook then you can also find customer ID number in your passbook.
So by following these 5 ways, Yes Bank customers can find their Customer ID.