Are you Yes Bank customer and want to open RD (Recurring Deposit) account? Then you don't need to visit Bank, you can open an RD account in Yes Bank Online using Mobile Banking and net banking.
Yes Bank offers an attractive interest rate on RD and FD account, so if you wish to save money in RD then here we will guide you how to open RD account online in Yes Bank.
Recurring Deposits (RD) are opened for a minimum amount of Rs.1000 and multiples of Rs.100
Tenure of RD should be in multiples of 3 months and maximum 10 years (120 months)
RD will be created subject to sufficient availability of funds in your account. The first installment shall be debited on the date of the opening of the RD account.
RD amount will be deducted every month from your saving account automatically.
Yes Bank RD Account Opening online
You can open RD account instantly through Yes Mobile banking application, see how:
Login to Yes Mobile Banking app and open Deposits section.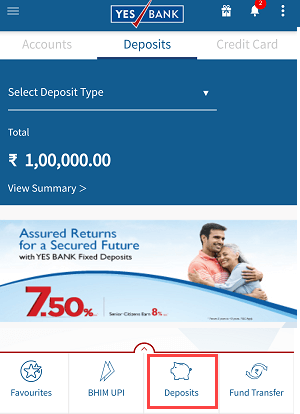 Now tap on Recurring Deposits and next screen tap on Open Recurring Deposit.
Next screen select your account number, select deposit product (RD- resident citizens) and enter the amount. Select tenure and proceed.
Now confirm your request. You can view the RD account summary here with the applicable interest rate. Tap on the proceed button.
Done! you have successfully opened RD account in Yes Bank. You can also add nominee if you wish to OR just ignore it.
After opening your RD account, the installment amount will be auto-debited from your saving account. Please keep a sufficient amount in your saving account to avoid any missing installment.
Other Way to OpenYes Bank RD Account Online
If you have Yes Net Banking facility then you can also open an RD account using Internet Banking.
Login to Net Banking and click on Deposits  – RD account
Click on Open RD account
Select your account number, enter RD amount, select tenure and proceed.
Next screen confirm your request and you are done!
FAQ
Q.1: How can I open RD account in Yes Bank?
Ans: You can easily open RD account in Yes Bank online through Mobile Banking and net banking Please follow the above step by step guide.
Q.2: What happens if rd installment is not paid?
Ans: RD installment amount will be auto-debited from your saving account. If your saving account has insufficient balance then please approach the bank to pay RD installment.
Q.3: Can I close my RD account before maturity?
Ans: Yes you can close your YES RD account before maturity through net banking.